One of the strongest Pipe Clubs in the UK – Nottingham and regular organiser of a pipe and tobacco show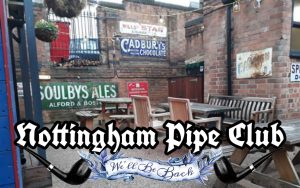 :
With the smoking ban and decline in pipe smoking, the art form is dying. Centuries of traditions, discovery & craftsmanship with it. The Nottingham Pipe club wishes to give pipe smokers and those looking to give it a go, a chance to sample blends and exchange tips and techniques. We meet once a month at the Lincolnshire Poacher on Mansfield Road Nottingham (See Map).
There is no membership fee, no admission fee & no silly uniforms. Due to the smoking ban, we have to hold our meetings outside in the beer garden. The Poacher has a large, sunken beer garden with sheltered & heated seating. The bar also boasts a large selection of cask ales, continental beers, whiskies/spirits & hot food/drink.
So if you want to come along, we should be outside from 7pm in the beer garden.
If you need more information please contact Glynn (me@glynnquelch.co.uk).