The Singapore Pipe and Cigars Smokers
Address:
PC, City:
Tel. No:
E-mail:
Website: http://singaporepipeandcigarsmokers.com/
National President
Name: Dr. Mike Loh
Address:
PC, City:
Phone private:
Phone job:
E-mail: Mike@DrMichaelLoh.com
Associated Pipeclubs
List of Pipeclubs here
---
Miscellaneous information
Dr Michael Loh is a member of L'Académie Internationale de la Pipe as well as a member of La Confrérie du Sabre d'Or.
The Singapore Pipe & Cigar Smokers Club is an informal club founded in 1986 by Dr Loh. We have a group meeting every month and many ad hoc meetings throughout the week. Total number of active members: about 35. We are a small and intimate group and we have already organized two pipe collectors' shows despite very draconian anti-tobacco laws in Singapore. The most recent one (in 2017) was officiated by Kyozaburo Tsuge and Carlito Fuente and attended by Barney Suzuki, Lee Von Erck, Li Zhesong, Peter Hemmer, Jerry Zenn, Satoshi Kosaka, Maurizio Fraternale, Joerg Wittkamp, Bodo Falkenreid, and many others.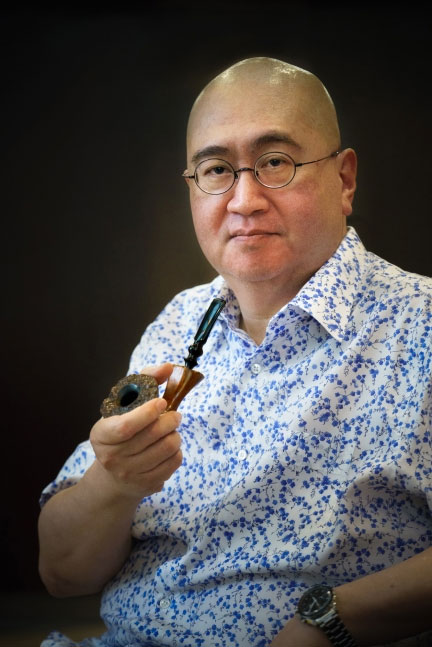 REPORT TO CIPC – 2ND SINGAPORE PIPE COLLECTORS' SHOW OCT 7 2017
The 2nd Singapore Pipe Collectors' show was a great one and a milestone for the Singapore Pipe & Cigar Smokers, an informal group started by me in 1986. For other shows globally, participants were merely given an address and a date and time. But here in Asia, our hospitality required that all VVIPs be picked up from the airport and chauffeured to all events.
On Oct 6 afternoon, all were invited to a private lounge to watch Carlos Fuente, Jr launch a new cigar; there were lots of premium drinks and complimentary Arturo Fuente cigars for all. That same evening, I hosted all our overseas visitors to a sumptuous dinner complete with several bottles of aged single malts, and each guest received a bag of Singapore souvenirs as well. Our pipe show was held the following day, on the Oct 7, on board a Mississippi river boat moored at sea. Carlos Fuente, Jr and Kyozaburo Tsuge cut the ribbon, I gave an opening address and presented certificates of appreciation to all who helped. We also honored two "uncles" – in our club, the traditional honorific "uncle" was given to overseas guests who have visited us twice. Barnabas Suzuki, VP, CIPC delivered a presentation on CIPC and conveyed greetings from President Cornelius Crans as well as from pipe clubs of Japan. I presented special gifts to Carlos Fuente, Jr, Kyozaburo Tsuge, Barnabas Suzuki and Lee Von Erck. As a special entertainment treat, a rare face-changing performance was staged. It is an ancient art form considered a level-two state secret in China. All visitors to the show received a large coolie straw hat and a "goody bag" contents of which included pipe stands and tampers. Exibitors at our modest show included Lee Von Erck, and the Ser Jacopo's owner from Italy; and from China, Li Zhesong, from Taiwan Jerry Zenn, from Germany Bodo Falkenried, Peter Hemmer and Joerg Wittkamp. Joerg's collection of rare handmade pipes be brought along was valued at over a million US dollars – so precious that I hired a private security guard to stand watch over his display!
From Japan we were happy that Satoshi Kosaka, a pipe carving award winner, also had a table at our show displaying his pipes too. Lee Von Erck gave a very interesting talk about briar, and day's events ended with smokes and drinks on the boat. We also held a lucky draw for all, with prizes ranging from cigar cases to back-scratchers to bottles of liquor. The next day, Oct 7, out-of-towners were treated to a tour of Little India and a delicious Indian lunch (including curry fish heads) served on banana leaves. They then visited a local tobacco store (Tabac 101, owned by our member Charlie Brown) and ended the day smoking at a private lounge, dinner at open-air food street in Chinatown and cocktails at yet another private lounge. On Oct 8, about a dozen of us, including Tsuge-san, visited the Tabacalera cigar factory in Manila, the Philippines. The show and trip were a great success. Pity that draconian anti-tobacco laws in Singapore forbade us to hold a pipe smoking contest or talks on cigars and tobacco (see original poster); still everyone had a fantastic time, from the feedback we received. My special thanks to Landrick Tan, who was our organizing chairman, and Avril Gan who was our advisor and international liaison. Following the show and trip, I announced my "retirement" from the club, which I founded some 30 years ago.