05th March 2014
Académie Internationale de la Pipe – Experience your pipe different
A column by Kurt Eggemann, president of VDP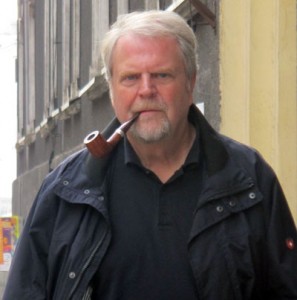 (Translation German – English by Alex Vasilic, Vice-president Pipeclub of Cologne)
(KE) Last year, short before Christmas, I was visited by Ruud Stam, president of AIP (Académie Internationale de la Pipe). Ruud and I got to know each other in 2009 during the annual congress of the Académie, which took place in Budapest. We had a wonderful time sitting on the stairs of the Hungarian National Museum during breaks and talking, while the sun was shining. And now was the time to continue our conversation, but now here in Cologne. We met in Pulheim and drove first to the 'Château Henri' in Niederaußem. Here Ruud examined a clay pipe collection and discovered some – in his words- very interesting pieces. Later on, we took these pipes with us to meet Peter Heinrichs in Cologne City.
Questioning Ruud about the work of the Académie I got detailed answers. Main theme was the future work of the Académie, considering international aspects and including interested German pipe smokers and pipe experts. We agreed that the AIP congress this year and the World Championship in Pipe Slow Smoking in Cologne must take place on different dates.
Out of this talk I headlined this column:
'Experience your pipe different`
To smoke a pipe is not an art, but it's a high art to enjoy it. A pipe lover does not go to the street corner or whatever place there will be, no, he's looking for nice and comfortable surroundings to smoke a pipe. He chooses a beautiful pipe, a tasty tobacco, and enjoys his pipe in peace. Contemplatively he's blowing clouds into the room.
Just this contemplativeness, this interest in beautiful and out of the ordinary things, brings along the ability to enjoy the whole world of pipes in a different way. There is the question: How did our ancestors smoke? When did it start? What were the pipes like? And the materials, clay, meerschaum, porcelain, metal and wood? Where on this world did people smoke? Who had made the pipes and what kind of people could they have been? Did women and children also smoke pipe?
The Académie Internationale de la Pipe has made it its business to research the history of the pipe and of pipe smoking. Members are not only scholars and museum directors from the whole world, but also collectors, people interested in pipes or pipe/tobacco history. In Germany two of the members are Peter Heinrichs of Cologne, owner of the most important pipe and cigar shop in Europe, and Kurt Eggemann, vice-president of CIPC, These men would admitted to the Académie in 2009 concerning their merits as messengers of the pipe.
The Académie was founded in 1984 by the Frenchman André-Paul Bastien. First seat was in Italy, since 1992 France. At this time the Académie and the CIPC were being viewed as sister organizations and supported by Altadis, the French monopolized Tobacco Company. At that time each country could only have two members in the Académie and it was a great honour to be called. In 2007 the Académie seated in Liverpool, England. There were changes during the take-over of Altadis and the members of the Académie decided to orientate in a scientific direction. Since then the Académie has its seat at the School of Archaeology, Classics and Egyptology in the University of Liverpool. The restriction to 2 members of each country
Was not opportune anymore and it was decided to expand the circle of members. Finally it was possible now as an interested person to get accepted in the Académie.
Once a year appears the 'Journal', a book with a lot of articles about pipe history. Content is about 140 – 200 pages and meanwhile it's a deluxe edition with many coloured pictures, for every pipe lover guaranteed an interesting and exciting reading. The congress takes place every year in another European country. During several days you can hear interesting lectures and visit together with other participants cultural places. Scientists, scholars, collectors and pipe smokers can meet there and come to know each other in an atmosphere free of stress. A wonderful possibility to experience your pipe different.
If you want to know more, visit the Académie Internationale de la Pipe in the WWW:
http://www.pipeacademy.org
Even such a day comes to a close much too fast, Ruud could buy, to his delight, his 'very interesting clay pipes', Peter and I got as a reminder the new year book of PKN of the Netherlands with a dedication from the author.
Next congress of the Académie will not overlap with the Cologne world Championship www.pipeclub-of-cologne.de . It will take place in Bergerac, France one week later and it would be nice to meet participants from Germany in Bergerac as congress-visitors.
Your
Kurt Eggemann
Vice president CIPC
President VDP
http://www.pipeclubs.com
www.vdp-pfeifenverband.de