BLOG – OPINIONS & FEEDBACK – BLOG
This CIPC blog is the place for your opinion and feedback about pipe smoking.
Do you want to tell the pipe smokers community around the world your interresting story, this is the starting point. So, please fill out the form on the right and send us your contribution. If you want to reflect on a specific story, you can use the same form.
Be welcome and share your knowledge.
Cornelius C.N. Crans MA – CIPC president.
______________________________________________________________________________
Blog nr. 12: Kurt Eggemann: Italien siegt in Spanien: Pipa Club Cerea Turin gewinnt den World Cup 2017 im Pfeifelangsamrauchen
Auch Pfeifenclubs aus Deutschland (Arnsberg, Köln, Oldenburg und Würselen) waren in Spanien am Start (KE)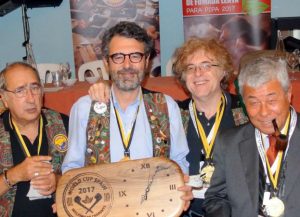 Der Pipa Club Girona hatte zum 17. World Cup 2017 für Clubmannschaften nach Figueres (Spanien) geladen und mehr als 250 Teilnehmer folgten diesem Ruf. Begonnen hatte dieser Welt-Event für Pfeifenraucher bereits am Freitag. Die Präsidenten der CIPC Mitgliedsländer waren gebeten an einem Präsident-Dinner teilzunehmen.
Dazu war eigens ein Bus für den Shuttle ins 30 km entfernte Macanet de Cabrenys bereitgestellt. Nach Ankunft am frühen Abend, ausführlicher Stadtbesichtigung mit Bürgermeisterin-Empfang im Stadthaus von Macanet und Besichtigung der Werkstatt des einzigen Pfeifenmachers dieser Region, Pipes SIGMUND, ging es dann am späten Abend ins Restaurant, nur ein paar Kilometer entfernt.
Der Samstag gehörte den Teilnehmer und Gästen zum Besuch der Pfeifen-! und Tabakwaren-Verkaufsausstellung. Die Teilnehmer konnten sich bereits für den World-Cup registrieren und die Länderpräsidenten nahmen bis zum Mittag an der CIPC-Jahreshauptversammlung teil. An der Ausstellung beteiligten sich internationale Firmen aus der Rauchwarenbranche, aus Deutschland DENICOTEA, sowie der Fachhändler Pfeifen Heinrichs-Peter Heinrichs aus Köln und Niederaußem. Reger Zuspruch dankte Ihnen die weite Reise nach Figueres. Im weiteren Programmverlauf für Freunde des Zigarrenrauchens eine "Cigar-Smoked
World Championship". Die rege Beteiligung sprach für sich und es war ersichtlich dass hier viele Pfeifenraucher es auch einmal ganz langsam mit einer guten Zigarre probieren wollten. Zum Abend hin natürlich wieder "spanisch spät" fand der Tag mit einem exzellenten Gala-Dinner für mehr als 200 Gäste seinen Abschluss.
Dann endlich der Tag des World Cups 15.10.2017, letzte Registrierungen, der Besuch der Ausstellung und Gespräche mit Pfeifenfreunden aus der ganzen Welt. Pünktlich um 15.00 Uhr, die Begrüßungsreden und Hinweise auf das Regelwerk waren erfolgt, hieß das Kommando fünf Minuten Zeit zum Stopfen der 3 Gramm Tabak, Startzeichen Feuer frei, eine Minute Zeit zum Anzünden, hierfür hat jeder Teilnehmer 2 Streichhölzer zur Verfügung und nun Ruhe im Saal. Es darf geraucht werden. Bis zu fünf Teilnehmer bilden ein Team, die drei besten Zeiten werden gewertet.
Neben der Mannschaftswertung erfolgt auch eine Auswertung der Einzelteilnehmer getrennt nach Damen und Herren.
Aus Deutschland sind Clubmannschaften dabei, Puba Arnsberg, der 1. Kölner Pfeifenclub-"The Pipe Club of Cologne", der Rauchclub Einigkeit Ofenerfeld aus Oldenburg und der Rauchclub Haal von 1876 aus Würselen. Nach 1 Std. 16 Min. 06 Sek. mit Sara Sumegi aus Debrecen bei den Damen und nach 2 Std. 03 Min. 56 Sek. mit Alexey Maydanov aus St. Petersburg bei den Herren standen die Sieger der Einzelwertung fest. Viktor Nellessen, Würselen mit 1. Std. 18 Min. 16 Sek., Uli Hampel, Arnsberg mit 1 Std. 15 Min. und VDP-Präsident Kurt Eggemann, Köln mit 1 Std. 03 Min. 06 Sek. erreichten ordentliche Zeiten im oberen Drittel des World-Cup Teilnehmerfeldes.
World-Cup Gewinner 2017 wurde das italienische Team Pipa Club Cerea aus Turin mit dem derzeitigem Weltrekordinhaber Gianfranco Ruscalla mit einer Gesamtzeit von 6 Std. 12 Min. 17 Sek. Auf den weiteren Plätzen folgten Pfeifenclub Csokonai Debrecen/ Ungarn und noch einmal aus Italien Pipa Club Corsellini. Wertvolle Preise für die Sieger, das Wissen um eine tolle Zeit mit vielen Erlebnissen rund um die Pfeife stellte wohl alle Teilnehmer zufrieden. Figueres war eine Reise wert und wird noch lange in guter Erinnerung bleiben.
Der nächste internationale Groß-Event für Pfeifenraucher, die 14.
Weltmeisterschaft im Pfeifelangsamrauchen findet statt am 28.10.2018 in Tokio/ Japan.
------------------------------------------------------------------------------------------------------------------------------------
Blog nr. 11: Kurt Eggemann: CIPC Annual General Meeting

Activity Report 2017 Kurt Eggemann, CIPC vice president Northern Europe
CIPC Annual General Meeting on 14/10/2017 in Figueres / Spain
My wish of the previous year for more information from Northern Europe and beyond was met. I received invitations to pipe smoking events and championships from Northern Europe and neighboring countries. These invitations were gladly forwarded and published on Internet pages.
Please keep it up. Many Thanks.
Also this year I was able to visit international championships. In Ruisbroek, as in previous years, I met friends from Belgium, the Netherlands, Germany, England and Italy. Since this championship and the world pipe-smoking day of the year always take place in February, there is the possibility to be present internationally for the pipe. Further ceremonies take place in different countries and in club life. The many submitted photographs prove it.
The world pipe-smoking day always on February 20th of a year live!
The Pipe Club of Cologne and the Pipe Club of London used this day to pin down the already existing international club friendliness in their club rules. Four designated members of a club are now members of the respective other club who are non-contributory. The declared goal is to cultivate and further develop friendships among pipe smoking.
The open Dutch championship was well attended by participants from Germany and Belgium. We had a very nice day with clay pipe in Oirschot. In May the West German Championship took place in Würselen, the oldest smoke club in the world of 1876. There I won the title with the team of my home club from Cologne. In September, the German Championship in Bremen and the visit of the INTERTABAK exhibition in Dortmund followed, in October, the highlight of the year, the European Championship in Nitra.
All the pipe smoking events known to me had a large share of interested pipe smokers. Also it is, please continue so. Many Thanks.
Kurt Eggemann
CIPC Vice President
______________________________________________________________________________
Blog nr. 10: Geert Landlust: "He wanted to smoke the pipe at twelve"
Geert was born in 1956 in the city of Groningen, located in the North-East of the Netherlands.
Since his aunt owned a tobacco shop, he wanted to smoke the pipe as of the age of twelve, but was not allowed by his parents. Age 18 was the magical threshold to cross. Then he was allowed to get his drivers licence, to vote, and his parents allowed him to grow a beard and to smoke the pipe. Oh and he was looking for a girl friend also.
Now almost 50 years later, Geert still has his beard, and still smokes the pipe. He is married for 40 years with his girlfriend. Also he still enjoys driving after 2.7 Miljons kilometers behind the wheel.
Being a chemist by education, he has worked in the R&D laboratories of a medicine manufacturer, a sugar plant and a starch derivatives company.
In 1980 he started working for the largest paper & board producer in the Netherlands, where over a period of 15 years he had the opportunity to build three times a state of the art laboratory, mainly for R&D purposes. Momentarily his job title is Product & Application Manager. This job takes him all over the world, supporting and educating clients of the worlds largest solid board producer Eska.
Approximately 30 years ago he got interested in Pipe Smoke Clubs. After joining it did not take long before he became Secretary of his club, soon followed by a membership of the board (Secretary) of the Dutch Federation for Pipe Smokers.
At that time he also participated in International Pipesmoking Champignonships.
After a couple of years , while the NFP was strugling (all funding was lost instantly), and the federation was sleeping, Geert being interim President, participated in the General Assemblees of the CIPC. That was approximately 20 years ago.
Today, Geert is Vice-President and Treasurer of the NFP and Secretary General of the CIPC.
Furthermore Geert is also Honorarily Member of a Whiskey Club. And is participating is nosing and tasting events. In this respect often a combination is made between enjoying a fine glass of spirit and a nice pipe of tobacco. Also lecturing workshops in this field are part of the Great Enjoyment of both combined hobbies.
Finally, Geert also rides the motor-bike and loves to camp in his camper-van, that he designed himself.
---
Blog nr. 9: Kurt Eggemann: "Was tut sich so rund um die Pfeife, Herr Eggemann?"
Nachgefragt bei Kurt Eggemann (Prasident des VDP) (www.smokersplanet.de)
sp: Herr Eggemann, Sie kommen gerade von der Westdeutschen- und Euregio Meisterschaft im "Pfeifelangsamrauchen" in Wurselen (Samstag. 20. Mai) zuruck. Wie war es denn? Was kann man zu diesen regionalen Veranstaltungen sagen? Sind dies Familientreffen "alter" Pfeifenfreunde oder gesellen sich hier auch jungere Pfeifen-Fans dazu?
KE: Es ist immer ein besonderes Erlebnis an solch einem Event fur Pfeifenraucher teilzunehmen. Wo anders kommen Pfeifenraucher und sogar Pfeifenraucherinnen heute noch zusammen um ihrer privaten Leidenschaft, dem Pfeiferauchen, nachzukommen. Meistens geschieht das an noch erlaubten Platzen bei privaten und geschlossenen Veranstaltungen, an der frischen Luft in Biergarten und im trauten Heim - dann aber meistens allein. Die gerade erlebte regionale Veranstaltung im Pfeifelangsamrauchen in Wurselen brachte alte und neu hinzugekommende Pfeifenraucher, auch jungeren Alters, zusammen und schaffte die Moglichkeit sich auszutauschen. Das Pfeifelangsamrauchen bringt Pfeifenraucher dazu, sich und andere fur ihr schones Hobby zu begeistern.
Besonders dann, wenn auch die regionale und uberregionale Presse uber diese Aktivitaten mit der Pfeife berichtet. Vielleicht erinnert das manch einen an die Zeiten, wo das Pfeiferauchen fast uberall noch erlaubt war.
sp: Wie wird man Pfeifenlangsamraucher und wo konnen Sie sich Interessierte dazu schlaumachen?
KE: An sich geschieht dieses durch Weitersagen unter Pfeifenrauchern, Empfehlungen manchmal durch den Fachhandel und heute hauptsachlich uber das Internet. Dort wird von den Clubs, den Foren und der Presse daruber berichtet. Interessierte konnen hier die notigen Informationen abrufen. Mein besonderer Hinweis gilt den Seiten des Verbandes Deutscher Pfeifenraucher e.V., dem 1. Kolner Pfeifenclub und allen anderen dem VDP angeschlossenen Pfeifenraucherclubs.
sp: Sie rauchen als Prasident des Verbandes deutscher Pfeifenraucher bei den Wettbewerbsveranstaltungen aktiv mit. Sei es im nationalen oder internationalen Vergleichen. Wird man als "oberster Pfeifenraucher Deutschlands" dabei besonders beobachtet? Peinlich, wenn der Nachwuchs Pokale holt und an Ihnen vorbeiqualmt...?
KE: Ja das werde ich ganz bestimmt. Ich bin nun fast 40 Jahre mit und fur die Pfeife unterwegs und das immer privat. Mein leider vor kurzer Zeit verstorbener Freund Peter Heinrichs, hatte es mir besonders angetan, war er doch der Fachmann par excellence in seiner Branche der immer ein offenes Ohr fur seine Freunde hatte. Das ganze macht mir immer noch Spaß und ich freue mich wirklich wenn der Nachwuchs Pokale holt und an mir vorbeiqualmt. Vielleicht fallt bald mein personlicher Rekord mit 1 Std. 37 Min. Im Pfeifelangsamrauchen.
sp: Spaß beiseite, was sind die vielfachen Aufgaben eines Verbandschefs, der nicht die Manpower des DFB hinter sich hat und wie bekommen Sie das alles geregelt?
KE: Die Frage ist nicht schwer zu beantworten, wie schon zuvor beschrieben, Freunde aus der ganzen Welt tragen meine Ideen zur "Pfeife" mit. Gerade das macht es wohl aus, wir qualmen eben Pfeife und pflegen Freundschaften unabhangig von der Herkunft einzelner Personen. Auch aus der Pfeifen- und Tabakbranche entwickelten sich Freundschaften.
Ganz besonders mit Wolfgang Diez (Denicotea), Planta Berlin, Pfeifen Heinrichs Koln / Niederaußem und weiteren Firmen bei regionalen Veranstaltungen. Auf die Frage wie ich das alles schaffe gibt es nur eine Antwort, es macht Spaß und dafur ist mir kein Weg zu viel.
sp: Es stehen etliche Wettbewerbe auf dem Sommerprogramm 2017. Welches sind die wichtigsten?
KE: Die Deutsche Meisterschaft im Pfeifelangsamrauchen am 30.09.2017 in Hamburg und der World Cup fur Clubmannschaften am 15.10.2017 im spanischen Fiugeres
sp: Wir wissen, dass Sie ein absoluter Genussraucher sind. Bleibt bei so vielen Veranstaltungen und Verpflichtungen rund um die Pfeife, denn noch die Zeit genusslich und ich Ruhe das ganz besondere Lieblingspfeifchen mit dem Lieblingstabak zu rauchen? Machen Sie das gerne mit Gleichgesinnten oder lieber alleine an einem besonders schonen Ort?
KE: Gerade habe ich alle Spiele der Eishockey-Weltmeisterschaft in Koln live gesehen. Deutschland schaffte es leider nur bis zum Viertelfinale. Ja oder besser gesagt, jetzt werde ich mir wieder Zeit nehmen und genussvoll eine Pfeife mit meinem derzeitigem und neu auf den Markt kommenden Lieblingstabak CLUB TABAK GRUN zu rauchen. Am liebsten naturlich in der Genuss-Lounge PH in der Kolner Hahnenstraße 2
sp: Dann zitieren wir mal Kurt Eggemann und sagen "Relaxed with your Pipe".... Und danke fur das Gesprach.
http://www.vdp-pfeifenverband.de
---
Blog nr. 8:

CIPC vice president mr. Ferreira:

A story about sensations
Pipe smokers often experience some unusual situations that provide unforgettable stories, fortunately, pleasant most of the times.
Next story is one of them:
At the end of the 1980s, when I was working for the Judiciary Police, in Lisbon, I held a job for two or three years in the Department of Information Analysis and Processing. At the time, there were five people working in that department. I used to smoke pipe all the time, Half and Half, two other people smoked cigarettes and the other coworkers did not smoke at all. The coexistence between us was peaceful and the days rolled smoothly in that misty environment in which the smell of the smoke arising from my pipe cannibalized all the others...
It happens that, very close to our office, was located the administrative service, and since the copy center was at the opposite side of the building, we made it easier for the administrative staff to make some photocopies in our machine.
And the story I want to tell has precisely to do with the comments of those who came into our room, greeted, made one or two copies and said: "this tobacco smells so good" or "I don' like the smell of that tobacco" or "you sometimes smoke a tobacco that I like so much, but not today"... and so on.
Since the tobacco was always the same, Half and Half, which I used to buy at a good price in cans of 340 grams, these comments often ended in a collective laughter, in which many times our visitors joined us, the moment they found that the tobacco was always the same.
Even today, my old  colleagues and I, some of us already retired, come together to spend some time and remember this and other stories in those days, frequently wrapped in a cloud of pipe smoke.
Fortunately, the so-called passive smoking did not affect us...
___________________________________________________________________________
Blog nr. 7: Henryk Rogalsky: My adventure with the pipe
Polish pipe smokers met together for the first time in 1974 during the first Polish Championship which was held in Szczecin. In 1975 Pipe Club of Slupsk and in 1977 Pipe Collectors Club of Poznan were established.
Their application  during the European Championship Bremen in 1978 was accepted and Poland as a member of the CIPC appeared. In December 1980 National Federation namely Polish Pipe Clubs Council was formed, consisting of 3 Clubs: Pipe Club of Slupsk, Pipe Collectors Club of Poznan and Kalisz Pipe Club.
Poland two times hosted World Cup in Slow Pipe Smoking: 2005 and 2013; both took place in Poznan. The Academie de la Pipe conference for 2012 was held in Gdańsk, Poland on 26-28 September 2012.
My pipe smoking adventure began in November 1984. It was then, while on holiday, in the capital of Polish mountains – Zakopane, I bought my first pipe. Since 1987 I am a member of Pipe Collectors Club of Poznan. I was several times clasiffied in the top ten best smokers for world championships through years. I was 4-times Polish Champion and in 1989 I set the Polish record, which lasted until 2004.
As Organizer of tournaments on pipe smoking I always choose Polish pipe as a contest one. They are great and of the best quality.
Since 2000 I am the president of Polish Pipe Clubs Council and since 2010 also vice-president of the CIPC for Central and Eastern Europe.
Personally, I work for the Polish-French corporation Orbis - Accor. In 2016 I was honored by my employer on the occasion of the 40th anniversary of my work for the company.
Henryk Rogalski, Poland
---
Blog nr. 6: Kurt Eggemann das war mein Pfeiffenjahr - gewonnen und verloren!

45 Jahre VDP-Verband Deutscher Pfeifenraucher e.V.!
Gewonnen!
(KE) Tolle Events und Bestätigungen für Pfeifenraucher zeugen in diesem Jahr davon, dass die Pfeife wohl auch in Zukunft nicht unterzukriegen ist. Pfeifenraucher sind eben höflich und nehmen Rücksicht. Zitat aus einem Interview mit Kurt Eggemann:"Auch wenn der Geruch von Pfeifenrauch selbst von vielen Nichtrauchern als angenehm empfunden wird, sollten Tabakliebhaber Rumsitzende um Erlaubnis fragen. Sonst trübt sich die Stimmung um Sie herum doch sehr schnell und sie haben keinen Genuss an der Pfeife". In öffentlichen Gebäuden und Verkehrsmitteln, Krankenhäusern, Restaurants etc. erübrigt sich die Frage sowieso, für die Pfeife, genau wie für die Zigarre gibt es auch hier (leider) keinen Sonderstatus.
Einmal im Jahr treffen sich Pfeifenraucher zu einem Event der "Superlative". So war es auch 2016. Sie trafen sich zur Deutschen Meisterschaft im Pfeifelangsamrauchen 2016 die nun schon vierundvierzigste Meisterschaft, diesmal in Bremen.
Großzügige Unterstützungen der Premiumsponsoren erlaubten sehr schöne Wettkampf-Pfeifen und den Genuss feinsten Tabaks zum Wettrauchen. Premiumsponsoren waren DENICOTEA mit Aldo Morelli, PLANTA mit Tabak und DB-Design Berlin und aus Köln der Tabakwarenfachhändler PFEIFEN-HEINRICHS. Weitere Unternehmen der Pfeifen- und Tabakwarenbranche beteiligten sich mit Sachspenden, wofür allen der Dank des jeweils veranstaltenden Pfeifenclubs immer gewiss ist. Geschmacks- und Tabak-Werbeverbote werden es der Tabakwarenbranche in Zukunft nicht leicht machen den Pfeifenraucher persönlich zu erreichen. Private Umfragen unter den vielen Pfeifenrauchern im VDP und CIPC haben ergeben das Produkte der an den Meisterschaften beteiligten Firmen bei ihren Einkäufen im empfohlenem Tabakwarenfachhandel bevorzugt werden.
2016 gab es in allen vier Himmelsrichtungen Deutschlands regionale Meisterschaften: In Köln, Bremen, Jesserndorf und Waren a.d.M., international geraucht wurde bei Landes-Meisterschaften in Belgien, Niederlande und Frankreich sowie in der Slowakei/Nitra anlässlich der Europameisterschaft im Pfeifelangsamrauchen. Gerade die Teilnahme an diesen Meisterschaften bringt es mit sich, Land und Leute einmal kennenzulernen. Städtetouren, Restaurants und die Besichtigungen wichtiger und historischer Baudenkmäler sind eine sehr interessante Begleiterscheinung unserer Reisen. Daraufhin meine logische Schlussfolgerung auf Kölner Art: "Pfeiferauchen und erst recht Pfeifelangsamrauchen bildet"!
Mitte des Jahres erlebte ich einen Event der besonderen Klasse auf dem Rhein. Pfeifen-Heinrichs hatte zum "Sommer-Smokertreff 2016" geladen. Vierhundert Gäste gaben dieser abendlichen Fahrt auf dem Rhein einen standesgemäßen Rahmen. Es durfte überall geraucht werden. Zahlreiche Aussteller waren mitgefahren und freuten sich über ihre Kontakte – und Umsätze.
In diesem Jahr hat auch der VDP gewonnen. Es gibt ihn nun schon seit fünfundvierzig Jahren, davon achtzehn Jahre unter meiner Leitung. Erfolge gehören nie einem alleine und so kann ich einmal an dieser Stelle dem gesamten Vorstand, Webmaster und allen Club-Präsidenten für die 1 geleistete Arbeit danken. Hier ist ein kleiner Auszug aus der Verbands-Satzung um daran zu erinnern, warum, wieso und wozu seinerzeit der VDP gegründet wurde.
"Der VDP wurde gegründet am 16.10.1971 in Würselen und ist im Vereinsregister des Amtsgerichts Aachen eingetragen unter der Nummer 73/1925. Der VDP ist Mitglied im Comite International des Pipe Clubs (CIPC) und vertritt im CIPC die Interessen seiner Mitglieder.
Sein Zweck:
1.Pflege und Förderung des geselligen- und wettkampfmäßigen Pfeifenrauchens.
2.Zusammenschluss der regionalen Verbände und der Ihnen angeschlossenen Vereine.
3.Aufnahme der Vereine, in deren Gebiet kein regionaler Verband besteht. Seine Aufgaben bestehen aus den nachfolgenden Punkten: 1. Beratende Funktion bei Neugründungen, 2.Beratende Funktion gegenüber Vereinen und Verbänden. 3.Kontaktpflege zu Wirtschaft, Ministerien und Behörden.
4.Förderung und Durchführung von Meisterschaften im Rahmen des Satzungszwecks und des bestehenden Regelwerks
5.Pflege und Förderung von Verbandsinformationen und Einführung von Diskussionsforen
6.Der VDP verfolgt keine eigenwirtschaftlichen Zwecke und hegt keine Gewinnabsichten…
Verloren!
Peter Heinrichs - dieser Name steht für Genuss und Lebensart. Der Name hatte sich zu einer Marke etabliert. Dann die erschütternde Nachricht über seinen Tod am 04.11.16 im Alter von siebzig Jahren. Peter war mein Freund - unser aller Freund. Was für immer bleibt, sind die Erinnerungen an ihn - mit Pfeife, Tabak und die gemeinsamen, schönen und guten Zeiten!
Liebe CIPC-website Leser, ein sehr schönes, aber auch manchmal sehr trauriges Jahr geht vorbei. Ich wünsche Ihnen ein glückliches und gesundes neues Jahr 2017.
Mit rauchigen Grüßen, relax with your pipe
Kurt Eggemann
Präsident VDP
www.vdp-pfeifenverband.de
www.pipeclub-of-cologne.koeln
---
Blog nr. 5: Steven Hersey: Pipe Camaraderie

Having been a pipe smoker for over twenty-five years, it is, however, only in the last six years or less that my interest, knowledge and enjoyment have all catapulted to new heights owing to the advent - in my own life - of social media, interaction with previously unknown groups and individuals and friendships gained as a result.
I previously simply did not know anything at all about pipe clubs, forums, local groups or even YouTube!
This renaissance in my personal levels of participation and enjoyment of the pipe has been a truly welcome and exciting movement and I can only say that it has transformed what was once a solitary habit into a delightful journey of exploration.
To meet with fellow pipe smokers, enjoy a pipe with them, discuss the merits of various tobaccos or the shapes of particular pipe types has meant so much to me on both a personal and a social level.
The camaraderie we enjoy is stimulating, inspiring and extremely pleasant. The global connections we have with makers and blenders, folk with histories and skills from a wide range of human experiences, has been a great voyage of discovery. To own a handmade pipe from someone in the USA, Greece, Portugal or back home in my native U.K. has meant so much to me in the last few years.
In a world of seeming ever-increasing exclusivism, I welcome the inclusivity of the Pipe world. Its devotees are truly global in outlook, testament to their character and integrity.
I wish all of you, wherever you are, many happy bowlfuls (and many more pipes) as you continue this wonderfully exciting and enjoyable pastime.
---
Blog nr. 4: Mike "Doc" Garr
As a sociologist, I see the pipe world in its entirety, it is a world that has been more or less accessible to me. So I may see the parts of it, but I am not privy to all the spheres that make up that world. I am definitely not a collector even though I own a good number of pipes. So when prized artisans come to a show with their finely crafted pipes that also have a price to match, I am not part of that world. Class interferes with my ability to climb to that level.
The sociologist Max Weber would talk about the pipe world as a status group. Weber introduces status as a way to provide a more complete explanation of social organization beyond the Marxist analysis using just social class. Class and status work together, with status, as Pierre Bourdieu reminds us, cutting across class lines. So while class relates to our place in the market or in the production process, status is based more on consumption and lifestyle choices.
Pipe smoking is such a lifestyle choice. As a status group, we share a common knowledge of pipe smoking and participate in similar rituals and celebrations with regard to our pipes. But it is a differentiated world as well. One may be a solitary smoker smoking drug store tobacco in inexpensive pipes to a collector of high end pipes. The solitary smoker can't fathom owning more than a few pipes while some may own hundreds or even thousands of pipes. The status of the pipe smoker status group definitely cuts across class lines.
Yet many of us bond. We seek each other out. Even if we do not know one another, the pipe unifies us. As a result, we form pipe clubs to ritualistically reaffirm our bonds and to ensure through our rituals the continuance of our status group. In the pipe club, class matters little. We are as Weber would say "a company of equals." We share our knowledge and our tobacco and we develop a shared a lifestyle. 
We go to celebrations. Pipe shows allow us to join with fellow pipe smokers we may never have come across otherwise. Everyone thought that when the "metacenter" where the Chicago pipe show is held went smoke-free, it would ruin the show. The Chicago club had set up a smoking tent. There you now were forced to interact with everyone and it was great. So many new friends of the briar were met. And through subsequent pipe shows those friendships become reaffirmed.
Likewise, smoking contests become an important ritual for pipe smokers. Some pipe smokers cannot see why competition should be part of the pipe world. But smoking contests are just one more aspect of the pipe world. One time in Chicago, where the US national competition is held, at the the table I was sitting there were people from six different countries all engaging in a common ritual. Where else does this occur? And despite the jitters everyone has, pipe smokers walk away wanting to do it again and again.
In the United States only about 0.3% of the population are pipe smokers. Through our rituals and celebrations that are part of a common lifestyle that makes us a status group, we are a "company of equals."
---
BLOG NR 3:  KURT EGGEMANN
(KE) Seit vielen Jahren ist der VDP-Verband Deutscher Pfeifenraucher e.V.  , der 1. Kölner Pfeifenclub -The "Pipeclub-of-Cologne" und Puba Arnsberg mit eigenen Websites im Internet präsent. Bisher hatten ca. 99500 Besucher aus aller Welt die Kölner Website besucht, ein Zeichen für die Attraktivität dieser Seite.
Nachdem die bisherigen Seiten technisch in die Jahre gekommen waren, hatten sich der VDP und die beiden Clubs entschlossen ihre Internetauftritte zu modernisieren. Die Seiten wurden nicht nur optisch aufbereitet, auch technisch ging man mit der Zeit. Seit Juni 2016 sind die Seiten auch optimiert für die Darstellung auf mobilen Endgeräten, wie Tablett-PC und Smartphone. Die bisherigen Seiten sind zur Weiterleitung auf die neue Website Domain geschaltet. Internetaufrufe aus der ganzen Welt kommen immer an.
Es wird berichtet über die Arbeit im Club. Themen und Ereignisse rund um Tabak und Pfeife werden aufgegriffen. Pfeiferauchen ist Genuss, so sehen es die fast 60 Mitglieder des 1. Kölner Pfeifenclubs, treffen sich seit 1979 in Kölner Eventstätten und oft auch in privaten Räumlichkeiten; seit 2007 regelmäßig in der Genuss-Lounge von Pfeifen-Heinrichs in Köln einer ihrer Lieblingsbeschäftigungen nachzugehen: Das Pfeiferauchen!
Mittlerweile haben sich in der Zeit von Juni bis September schon beachtliche 28.000 User die Kölner Club-Website angesehen und es kommen über die weiteren 18 dem VDP angehörenden Pfeifenraucherclubs und seinen über 1200 Mitgliedern noch viele tausend User hinzu.
Das soll uns Ansporn sein, auch weiterhin über unser schönes Hobby, aus dem Clubleben und über Neuigkeiten aus der Welt des Pfeiferauchens digital zu berichten.
Heute wird erstmals ein BLOG auf der Homepage des CIPC in der Landessprache seines Verfassers veröffentlicht. Das ist bestimmt ein gewagtes Experiment aber ein richtiger Schritt des CIPC Vorstandes, Pfeifenraucher aus der ganzen Welt zu animieren in Ihrer Sprache zu berichten. Die modernen digitalen Übersetzungsmodule, wie z.B. Google Translaters etc. lassen es heutzutage problemlos zu, den Partner mit Pfeife und Tabak zu verstehen, auch wenn er aus einem ganz anderen Land kommt und eine ganz andere Sprache spricht.
In diesem Sinne und gemäß des Club-Leitspruchs der Mitglieder des "Pipeclub of Cologne":
" In Freundschaft einen sehr guten Tabak aus einer sehr guten Tabak-Pfeife zu rauchen"     
  (Zitat: Kurt Eggemann)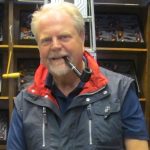 Der Verfasser dieses BLOGS Kurt Eggemann ist Pfeifenrauchern und in Deutschland und anderen Ländern durch seine nimmermüden Aktivitäten in dieser Szene seit vielen Jahren bestens bekannt.
1978 besuchte Kurt Eggemann (geboren 1951 in Deutschland) erstmals einen internationalen Wettbewerb im Pfeifelangsamrauchen. Die 6. Europameisterschaft in Bremen. 1979 gründete er mit Freunden den Pipeclub-of-Cologne und trat 1980 mit dem Club in den VDP ein.
1979 bis heute:  Präsident des 1. Kölner Pfeifenclubs – The "Pipeclub-of-Cologne",
1984-2000: Präsident des Westdeutschen Verbandes.
1999 bis heute: Präsident des VDP-Verband Deutscher Pfeifenraucher e.V.
2013 bis heute: Vize-Präsident des CIPC.
Seit 2009 Mitglied der Akademie Internationale de la Pipe, seit 2012 Confrere der Confrerie des Maitre Pipiers de Saint-Claude und seit 2014 Mitglied des Pipeclub of London. 2013 Besuch der Chicago Pipe Show in Saint Charles im Namen des CIPC Vorstandes.
1979 erstmalige Teilnahme an einer Deutschen Meisterschaft, später auch an Regionalen. Noch viele sollten folgen. 2007 und 2014 Organisation der Deutschen-, sowie an weiteren 4 regionalen Meisterschaften.
Nach Bremen 1978 Reisen zu den von CIPC Mitgliedsländern organisierten Meisterschaften folgen: 1980 erstmals nach Amsterdam, weiter nach Antwerpen, Paris, Olten, Monschau, Dijon, Saint- Niklaas, Kopenhagen, Poznan, Marienbad, St.Petersburg, Würselen, Debrecen, Estoril, Eindhoven, Sevilla, 2013 erneut Poznan, Monastier di Treviso bei Venedig und in diesem Jahr 2016 nach Nitra.
2008 bis 2012 Examen und Diplomarbeit an der "Akademie för uns Kölsch Sproch" in Köln
Veröffentlichung eines Buches mit dem Thema "Kölner Original des 21. Jahrhunderts" zur Stadtgeschichte Kölns.
2013 Vorträge mit dem Thema "Meine Leidenschaft - Das Pfeiferauchen"
Mitorganisator der 15. Europameisterschaft 2008 in Würselen.
Ausrichter und Organisator der 13. Weltmeisterschaft im Pfeifelangsamrauchen in Köln.
Kurt Eggemann ist ein internationaler Botschafter des Genusses mit Pfeife und Tabak und verfügt über ausreichend viele und schöne Pfeifen in seiner Sammlung.
---
BLOG NR 2: BARNABAS T. SUZUKI
B. T. Suzuki (born in 1938 in Japan) started to smoke pipe in 1965 after his first trip to Europe when pipe smoking was very popular especially in Denmark and Sweden. He became a member of Japan Pipe-smokers Club in Tokyo in 1970.
He was a member of the organizing committee for the 3rd World Championship of Pipe Smoking (1976). The national federation of pipe clubs (The Pipe Club of Japan) was organized in 1974 with 15 clubs throughout the country, one year after sending a Japanese team as a guest to the 2nd European Championship held in St. Claude in 1973. With participation of Japan, CIPCE was reorganized and changed the name to CIPC and expanded the organization to accept members from all over the world.
B. T. Suzuki joined CIPC in 1976 when the 3rd World Championship was held in Tokyo and was elected to the Vice President of CIPC in 1984.
Today 31 active clubs are the members of the Pipe Club of Japan and the All Japan Championship of Pipe Smoking is held every year except in the year when the World Championship is held in Japan (1976, 1990 and 2018). After serving as the president of The Pipe Club of Japan for 5 years until 2009, he was nominated to the President Emeritus.
He was invited to attend the inaugural conference of Académie Internationale de la Pipe in Paris in 1985, and to be a life time member in 1990. Today, he is a member of the board of the Académie.
B. T. Suzuki is a researcher of the history of smoking introduction into Japan and the history of the global propagation of smoking. He published 8 books including 6 co-authored books on pipe smoking. Three of them were published outside of Japan, in Paris, London and Peking (China). He has over 2000 pipes in his collection.
---
BLOG NR 1: How to Start Your Own Pipe Club,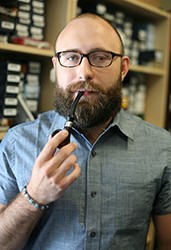 by Andrew Wike
1) Find a Location
Before you even create your group, you need to find a location. Talk with your local tobacconist or smoke shop, and see if they'd be willing to host your event. Or find another smoke-friendly central place to meet. If you want attendance to grow, the location should be fairly accessible and easy to find.
2) Set a Time
Once you've found a location, you can go ahead and set a time for your first meeting. You might not have a lot of members just yet, but by going ahead and setting a time/place, others will know that you're serious about creating this club and may be encouraged to join. Be mindful of your time as well. Try setting your first meeting at a time you think might be convenient for all parties — i.e. not at noon on a weekday, for example.
3) Create Your Page & Spread the Word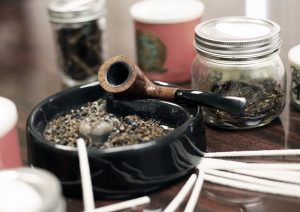 Now it's time to actually create your pipe club... well virtually at least. Having a prominent online presence will allow fellow local pipers to find your group and join. A Facebook Group is a great way to communicate with your members and post discussion questions or meeting changes. Another alternative is to create a subforum post on Pipesmagazine.com, pipesmokersforum.com, or Reddit's /r/PipeTobacco forum. Have pipe buddies in the area? Have them join your group or comment on your thread. Others are more likely to join in if they see activity and members on your page. Remember, these pipe clubs are meant to bring people together, so be considerate and accepting to all.
4) Have Your First Meeting
Now it's time for your first meeting. Don't be discouraged if attendance is low. Even if it's just you and a few friends chatting about recent events, the meeting's still been a success. You've held your first meeting, and now you're official. Encourage those who did come to post about their experience or leave a testimonial on your page. This actually works for all your future meetings as well! Sharing what a great time you had last time will likely persuade others to join the fun.
5) Keep Scheduling Meetups and Watch Your Pipe Club Grow
Well the hard part's over. Just keep scheduling meetings and watch your pipe club grow. Don't forget to continue posting about your experiences and keep your members up-to-date with time/date changes and events. Try taking a few pictures to document each meeting and share them on your page. Remember to be consistent with your scheduling. Get feedback from the group about when you meet, and find a time and date that works best for everyone. Once you've figured that out, try to stick to that meeting schedule. Consistency will give your group structure and keep things organized and flowing smoothly.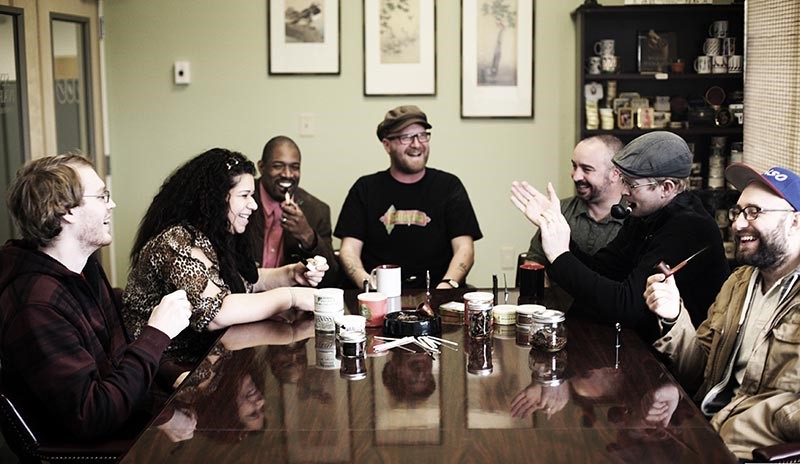 Not sure if there's a pipe club in your area? Try asking around on the forums. If there's not, just follow these 5 steps, and you'll be hosting your own pipe club meetings in no time.
List of blogs
How to Start Your Own Pipe Club
BARNABAS T. SUZUKI
Kurt Eggemann
Mike 'Doc' Carr
Steven Hersey: Pipe Camaraderie
Kurt Eggemann: Das war mein Pfeifenjahr!
Henryk Rogalsky: My adventure with the pipe

CIPC vice president mr. Ferreira:

A story about sensations
Kurt Eggemann: "Was tut sich so rund um die Pfeife, Herr Eggemann?"
Geert Landlust: "I wanted to smoke the pipe at the age of twelve"
Kurt Eggemann: CIPC Annual General Meeting on 14/10/2017 in Figueres / Spain
Kurt Eggemann: Italien siegt in Spanien: Pipa Club Cerea Turin gewinnt den World Cup 2017 im Pfeifelangsamrauchen